Just slide it in, and you're good to go!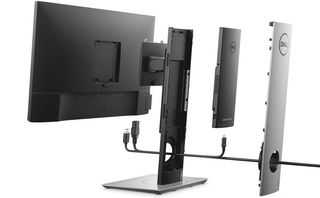 Rising from the ashes of all the all-in-ones discarded due to one dated or dying component is the Dell OptiPlex 7070 Ultra, a mini PC that's designed to transform a monitor into a modular all-in-one. Dell's OptiPlex mini PCs are already small and designed to be mounted out of sight. However, this new model takes that to another level by making it thin, narrow and slender enough (at 3.78 x 10.09 x 0.78 inches) to be slid into a monitor stand, essentially turning your monitor into an all-in-one desktop.
The covert nature of the OptiPlex 7070 Ultra makes it appealing for folks who crave a clean, more minimalist workspace.
https://www.techradar.com/uk/news/dells-optiplex-7070-ultra-is-a-minimalists-modular-all-in-one-pc-dream